Five years of watching and waiting, and it all comes down to this.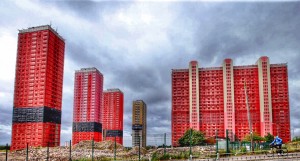 We have been following the story of Red Road's inexorable journey from well-intentioned though ultimately flawed social experiment to impending demolition for almost five years now.
The story 30+ storey blocks that loom over Glasgow like a raised scar has had more twists and turns than even the most ludicrous soap opera. Over the years, we have reported on a triple suicide at the blocks, the bidding war to win the right to demolish them, and the painstaking task of removing huge amounts of asbestos from the towers. We have reported on the (sadly abandoned) plan to implode them as part of the opening ceremony to last year's Commonwealth Games, and we have commented upon the preposterous suggestion that, at the eleventh hour, they might be rescued and used to house people caught up in the current migrant crisis.
But regardless of those twists and turns, it all comes down to this. On Sunday, Safedem's William Sinclair will hit the plunger and erase the Red Road blocks from the Glasgow skyline forever.
To commemorate what will unquestionably be Europe's largest-ever controlled explosive demolition, DemolitionNews looks back at the Red Road story as reported here in these pages
Click here for Red Road – The Full Story
Europe's largest controlled demolition
6 Days
Glasgow
11/10/2015

Posted: October 4th, 2015 under Red Road.
Tags: Red Road
Comments: none