We have launched a new magazine dedicated entirely to demolition equipment. Want a copy?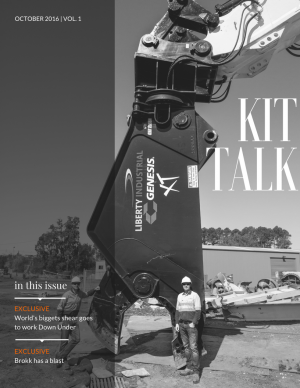 Ever since we launched the Demolition magazine, we have been asked to produce a stand-alone magazine that featured just demolition equipment: No interviews; no legislation; no general demolition-related stuff. Just equipment – wheels, tracks, attachments and all that good stuff that smells of diesel and hydraulic oil.
But the timing has never been right. Until now. Because now we have a pair of equipment-related world exclusives that fully justify the launching of that stand alone magazine. And we're calling it Kit Talk.
The magazine is available in electronic and is FREE to read to subscribers only. To secure your copy, just click here and hit the big green download button.
If it proves popular – and we will know by the number of downloads, views and shares – we will do another one. If it falls flat on its face, we will put it down to experience and never speak of it again.
However, we sincerely hope you like it and we look forward to hearing your feedback, whatever that may be.
Posted: October 7th, 2016 under Kit Talk.
Comments: 1