Former IDE president seeks to engage next generation of demolition men and women.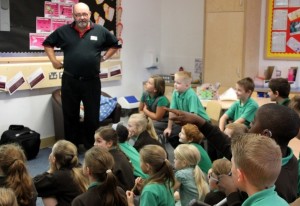 Training in the UK construction and demolition industries is generally reactive; training those that we already have and hoping against hope there will be enough skilled workers to go around. Little wonder then that the industry is regularly beset with a skills shortage that impedes growth and prevents it from maximising its potential while simultaneously failing to grow the pool of talent from which to draw the leaders of the future.
Former IDE president and training evangelist John Woodward, however, sees things differently. Having already toured a number of secondary schools to spread the demolition message to school leavers, Woodward has just taken that message even further down to grass roots level, working with primary school children as part of the Government- backed Primary Futures programme.
Primary Futures seeks to help children understand the link between what they learn at school and their futures by bringing in employers and local businesspeople to talk about the world of work.
Hundreds of schools nationwide took part in the national launch last week. Within John Woodward's native Wolverhampton, Oak Meadow Primary School in Wednesfield held an event where Woodward joined Wolverhampton North East MP Emma Reynolds, Beano illustrator Laura Howell, journalist Peter Madeley and author Paul Dowswell who each spoke to pupils.
"John Woodward has been involved with the project from its conception. He had originally volunteered to work in secondary schools within the Inspiring Futures project. I first contacted him back in February 2014 when we were piloting the project in Tipton and Wolverhampton. He was hugely supportive and went out of his way, moving dates in his diary to support it and in addition, encouraging business associates of his to support it too," explains Primary Futures co-ordinator Tish Keech. "When we organised the regional launch in May in Birmingham, John was ready, willing and as usual superbly organised and inspiring. He has adapted his talk for primary chidren and is open and honest with the children giving them a clear understanding of how important English and Maths are to him in his every day work whilst also showing them that hard work and determination can help you in finding your dream job. This has been a really successful pilot. The children have been inspired by the speakers and in turn, the professionals have been thrilled by the engagement of the children and their insightful questions. We are keen to recruit more volunteers from many types of professions who are happy to give up their valuable time to share some of their experiences with young people – and hopefully inspire them about the world of work. I would urge interested employers and employees to look at the website, www.primaryfutures.org, or contact me via district12@nahtofficials.org.uk for more details."
Posted: October 21st, 2014 under General.
Comments: none