Dem-Master giant starts work at Toryglen.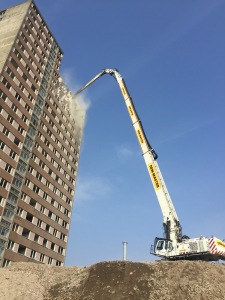 Residents of the East End of Glasgow will need to get used to a major new focal point on the horizon just as they prepare to bid farewell to another.
Dem-Master has just started work on the demolition of a pair of 24-storey tower blocks; and the company's ultra high reach excavator is leading the charge.
Based on a Liebherr 984C excavator, the unit has a reach of 64 metres, making it one of the largest machine of its kind in the UK.
A spokesman for client – Glasgow Housing Association (GHA) – confirmed high-reach machines were being used to take down the buildings and added explosives were not being used.
Work began to upgrade the area in 2013 and 14 with several low and high-rise flats being demolished since in order to build new homes on the site, which sits near Hampden Park football stadium.
A demolition and regeneration programme is still under way in Toryglen to clear all multi-storey and flatted properties to make way for new housing.
Posted: September 19th, 2016 under Equipment.
Comments: 5