Going under the hammer…
Sloyan Doyle equipment fleet up for auction this Saturday.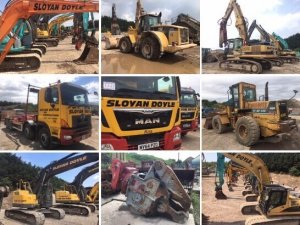 Following the decision of its directors to retire rather than carry on in the demolition business, the equipment fleet of Liverpool-based Sloyan Doyle is scheduled to go under the hammer this Saturday.
The sale is being handled by Shropshire-based auctioneer Malcolm Harrison and contains a truly mixed bag of equipment, vehicles, containers and site storage.
The auction follows just a few weeks after a shock announcement that the company was to close its doors after more than 40 years, its directors choosing to retire.
Incorporated in 1964 as J Doyle & Co (Demolition) Ltd and built up over two generations of the Sloyan family, Sloyan Doyle Demolition is one of the best known and respected names for demolition and recycling in the UK. The company is also a member of the National Federation of Demolition Contractors (NFDC).
Full details of the auction and the lots available can be found here.
Posted: July 11th, 2018 under General.