Recruitment made simple…
We have made it easier (and cheaper) for you to find demolition workers.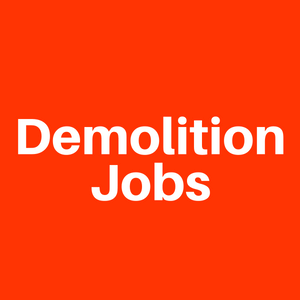 Due to (possibly unfounded) concerns over the General Data Protection Regulations (GDPR) we took the decision to take our Demolition-Jobs.co.uk website offline. In fact, it is STILL offline. But that doesn't mean we can't help you find the staff you're looking for.
Rather than risking putting the site back online and incurring the wrath of the data protection police, we will now be running recruitment advertising on DemolitionNews.com, all clearly marked with our new livery and logo.
We operate a dedicated (and GDPR-compliant) database of UK demolition workers across a variety of roles and with a variety of qualifications and experience levels that are either seeking employment or who have expressed an interest in changing companies or roles.
Recruitment ads placed with DemolitionNews.com will appear – of course – on the DemolitionNews website. But they will also be featured in the next available edition of This Week in Demolition which is sent to our entire readership each Monday morning. Furthermore, it will appear on our Twitter, Facebook and LinkedIn pages for even greater exposure.
So if you need staff, we've made it as easy as possible for you. And we have made it cost-effective too. You can even pay online to receive a 20% discount.
To find out more, just CLICK THIS LINK.