Comment – Right Time, Wrong Man…
End of an era as David Darsey steps down from NFDC Executive.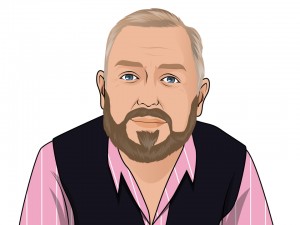 In order for DemolitionNews to have any credence or credibility, it is important that I personally remain impartial and objective; which I manage to do about 98 percent of the time. What follows stems from the other two percent in which personal feelings interject and influence. And so, if that's not your thing, if you are utterly devoid of sentiment, or if for some reason David Darsey is not your cup of tea, then please feel free to skip the rest.
I served as Darsey's press officer for the duration of his presidency and – in my opinion – he was the finest of the three and a half presidents under which I served. And yet, in many ways, his presidency was conducted in the toughest circumstances. He was wearing the chains of office when the recession hit, drowning a good many demolition contractors in its wake. He also inherited the unenviable task of making the Federation's Accredited Site Audit Scheme compulsory AND a pre-requisite of membership. And he held the reins when the Federation transitioned from a poky office in Staines to a purpose-fitted premises in Hemel Hempstead that is home to the NFDC to this day.
I saw first-hand that Darsey is comprised of contradictions. He is a walking paradox; proof that it is impossible to judge a book by its cover.
Darsey speaks with the sort of London accent that those that don't know better would perceive as cockney; he sounds like every "geezer" that has ever been portrayed in a gritty London-based drama. During meetings, he can be tough and uncompromising; and while he was rarely the loudest voice in the room, there was never any question of the influence he was capable of wielding.
Yet he wore (and continues to wear) that influence lightly. He works a room like no other; no man's hand goes unshaken with Darsey in attendance; he is seemingly friends with just about everyone.
But it runs deeper than that. Way deeper. And I say that from personal experience.
During the opening of the "new" Resurgam House in 2009, Darsey handed over a cheque to the founders of the Lily Foundation, his chosen charity at that time. There was an unmistakable tear in his eye as he did so.
My wife couldn't attend the NFDC Convention in Kilarney in 2009 – perhaps Darsey's finest hour – because our eldest daughter had been the victim of a "mild" assault. Darsey noted her absence and – even though he had formal duties to perform – took time to offer his support and his counsel.
A few years later when I wrote A Site for Sore Eyes to help raise money for the families of those killed in the Didcot disaster, Darsey was the first to place an order; and a sizeable order at that. A few months later still, after I had a whack on the head, he was the second person to call me to check on my wellbeing (and he was only second by about 20 seconds).
He can appear gruff, his hoarse rasp of a voice adding to his "cockney" accent to reinforce that "geezer" persona. He presides over one of the largest and fastest-growing demolition companies in the world, a company that has won multiple awards over the past decade or more. You don't achieve any of that without a degree of ruthlessness and hard-nosed business acumen.
But I have always found Darsey to be a gentleman in the finest tradition of that word.
I am conscious of the fact that this is starting to read like an obituary; and that was never the intention. He is only 50 years old; he has another half a year at the helm of the Institute of Demolition Engineers and he is taking up a position on the board of the European Demolition Association. He is also retaining his position as an NFDC Honorary Life Vice President and on the Federation's National Council. He is not going anywhere anytime soon.
But his passion, commitment, dedication, enthusiasm and – most importantly – influence will be a huge loss to the NFDC Executive Committee. And while it might be the right TIME for Darsey to step aside, I can't help thinking it's the wrong MAN doing the stepping.
Posted: May 2nd, 2018 under General.