Breaking News – DSM Group sold…
UK's most profitable demolition firm in management buyout.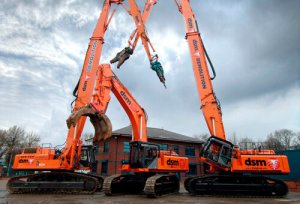 After more than a week of intense industry speculation, European private capital group Metric Capital Partners has announced today its investment to support the management buyout and merger of DSM Demolition and St Francis Group.
DSM is a leading industrial services business providing complex demolition, remediation and decommissioning solutions in the UK to a blue chip client base across a range of sectors. It is also one of the UK's most profitable demolition firms. SFG, meanwhile, acquires brownfield sites and performs demolition, remediation, planning enhancement and other improvements such that the sites may be sold 'clean' to a range of purchasers. The combined Group has a clear competitive edge in the UK market with its unique, combined expertise –in technical remediation and planning expertise combined with an acquisition vehicle to purchase environmentally challenging sites. This expertise enables the Group to "unlock" the value of purchased land assets.
In the transaction, Metric has partnered with the DSM and SFG management teams to buy out the family shareholders who established and have owned the Group since 1988. MCP and management will share ownership of the Group going forward.
David Scheurl and Ilkka Rantanen, both Partners at MCP, will join the board of the Group. "We are delighted to be partnering with the management team to support both DSM and SFG. DSM is recognised as a leading player in the UK demolition industry with a long track record of delivering innovative solutions on complex projects for clients. The combination of DSM's technical capabilities and the planning expertise of SFG will allow the Group to approach challenging opportunities with a unique perspective. These elements provide a solid base for the Group's growth strategy, and we are supportive of the Group's management team – led by CEO Rob Braid and CFO Brian Baker – to drive the business forward."
Rob Braid, Group CEO, added: "MCP bring us the best of both worlds in that we will continue with the same great team we have at the moment and are able to add both financial and operational expertise to grow the Group's activities. We have built a strong relationship with Metric through the course of the transaction and have identified large areas where our partnership can create significant growth opportunities across all of the combined Group's activities."
John Sinik, Managing Partner at MCP, further commented: "Metric's investment in DSM and SFG is consistent with our investment strategy to back high quality businesses and support the growth plans of their management teams. The solid track record of DSM's profitability and performance through economic cycles driven by its strong client relationships and SFG's portfolio of land assets underpin our investment thesis. This transaction showcases MCP's ability to create bespoke private capital solutions addressing the objectives of management teams and vendors."
Posted: April 4th, 2017 under General.