Biggest in the world…
Australian company stakes claim for world's largest demolition machine.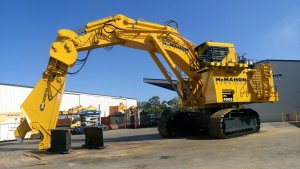 Australia's McMahon Services has recently built what it claims to be the largest, heaviest and most powerful mobile demolition shear currently in operation worldwide.
Combining a 400 tonne Komatsu Excavator with the world's largest heavy duty cutting shear, the machine has a massive physical presence. The steel shear was custom fabricated in the United States, capable of piercing through 80 mm high grade steel with a cutting force pressure of 5500 PSI.
The $5 million heavy duty demolition machine has been assembled at McMahon Services' Adelaide facility. A team of specialist mechanical engineers and hydraulic experts have spent over eight weeks commissioning the machine to have it ready for its first demolition project in late April.
The machine will be disassembled into eight sections and moved via road transport to a major iron ore facility in Port Hedland in the Pilbara region of Western Australia. Once it completes its work there, the machine will then be transported back to South Australia where it will continue its work at the Port Augusta Power Station.
The machine will perform two key functions including a significant amount of mechanical demolition followed by scrap processing and recycling activities. The addition of this machine into the fleet of high performance demolition excavators at McMahon Services, consolidates our position and reputation as one of Australia's leading demolition companies.


Posted: April 3rd, 2017 under General.