Exclusive – UK's biggest high reach bound for NZ
Coleman & Company send 65-metre high behemoth to aid post-quake clean-up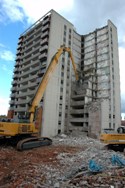 DemolitionNews can exclusively reveal that the 65-metre ultra high demolition rig owned by Birmingham-based Coleman & Company. has been sold to Nikau Contractors and will depart shortly to start work on the clean-up operations in quake-hit Christchurch.
This machine is based on a Liebherr 984 excavator that has been extensively modified for ultra high reach demolition duties by Kocurek Excavators Ltd. Fully assembled, the machine can reach up to 23 storeys and weighs in at 200 tonnes.
The sale – for an undisclosed sum – appears to be an excellent arrangement for all concerned. Coleman & Company. has achieved a remarkably high level of utilisation on its highly specialised machine, completing tower block deconstruction contracts near the company's West Midlands home and as part of a term agreement with the Glasgow Housing Association in Scotland. With a long-term contract now in place at Birmingham New Street where a super high reach is not required, Coleman & Co. was quietly seeking a buyer for its Kocurek-modified monster. Nikau Contractors, meanwhile, is faced with a huge number of earthquake damaged and potentially unstable buildings in urgent need of deconstruction using a suitably large high reach machine.
Although the timing of the deal is right for both parties, Coleman & Company's Mark Coleman says that he will be sorry to see the machine go and believes the machine could make the return journey, rejoining his company's fleet at some point in the future. "The machine doesn't fit our equipment needs right now who knows what the future may hold," he says. "Coleman & Co. is one of the pioneers of ultra high reach demolition excavators in the UK, we have learned a lot since this machine first went to work. If the profile of our work changes, I certainly wouldn't dismiss the idea of buying the machine back."
Making the sale of the machine even more timely is the fact that the Coleman unit is just a matter of weeks away from being usurped as the UK's largest ultra high reach machine. Another Liebherr 984-based machine – believed to have a 67 metre reach – is currently going through the Kocurek factory before joining the fleet of owner – and soon-to-be record breaker – Technical Demolition Services.
Posted: August 11th, 2011 under General.